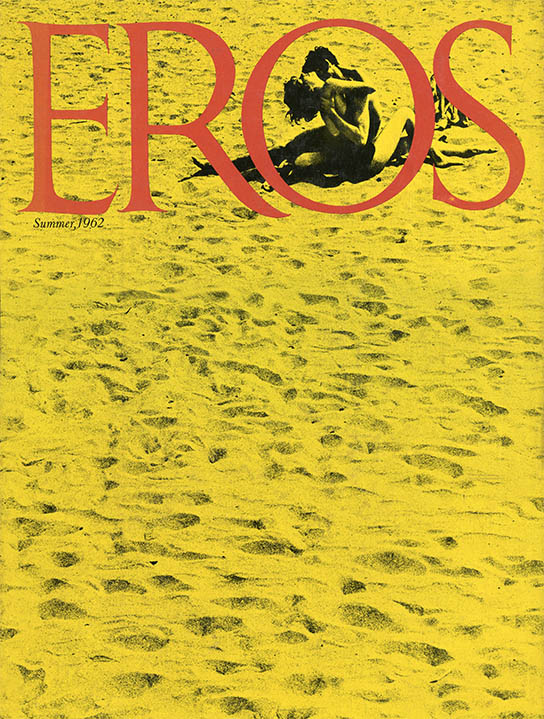 Eros
Ralph Ginzburg & Herb Lubalin, part I
Ralph Ginzburg, provocateur, pornographer, and direct marketing guru, was born 28 Oct 1929 to Russian émigrés. After a degree in journalism from the City College of New York he began working as a newspaper reporter and later as a freelancer for magazines including Esquire, Reader's Digest, Collier's and LOOK.
In 1960, at age 31, Ginzburg began work on his first major publication, a magazine "entirely devoted to Love and Sex." Essentially an ultra-literate version of Playboy. The result was the quarterly Eros which covered sexuality in history, politics, art and literature.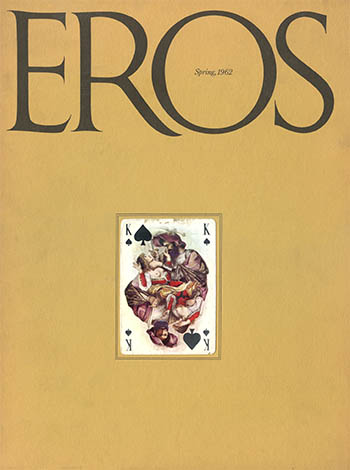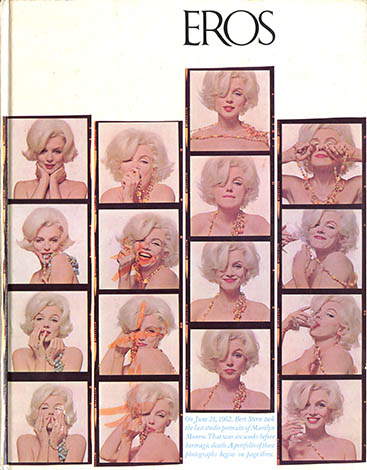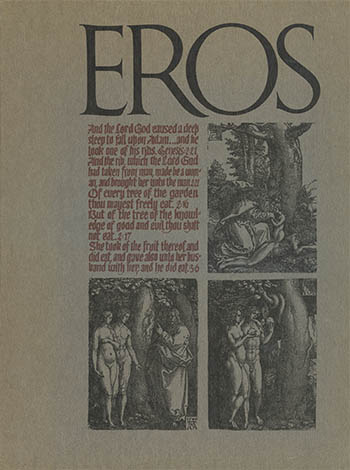 Ginzburg approached several designers but especially liked Herb Lubalin's work. Lubalin agreed to the unusual project only if he had complete design freedom. The result was a collaboration that would span four magazines and ten years. Eros would turn out to be perhaps the most beautifully produced periodical of the 1960s.1 The magazine (really more of a coffee-table book) was an oversized (10 × 13") hardcover with multiple paper stocks and lavish full-color photo spreads. Nearly 50 years later it still stands as a high point of Lubalin's art direction and editorial design. Here are a few examples: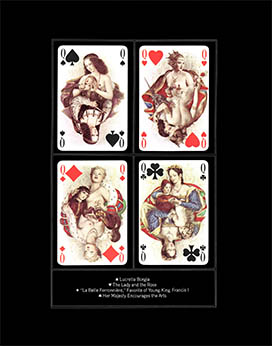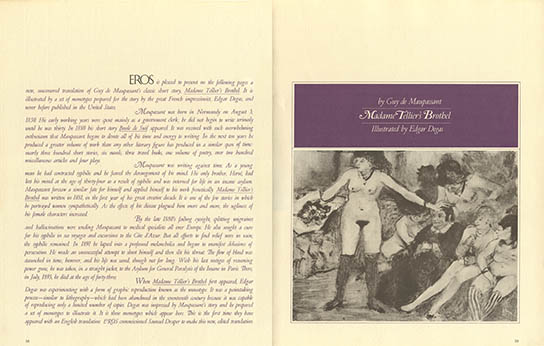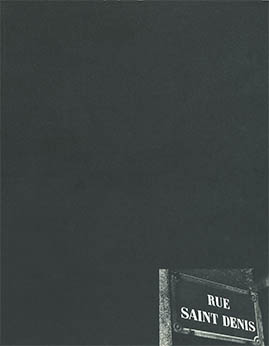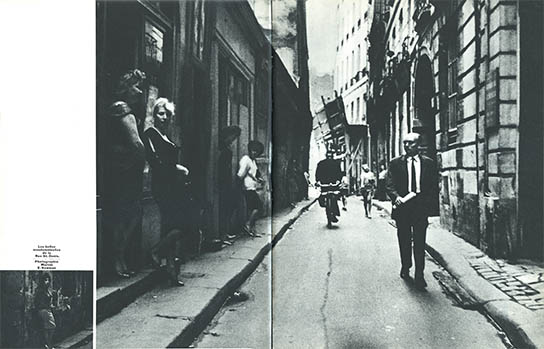 Over its short life Eros featured writers including Ray Bradbury, Nat Hentoff, Arthur Herzog and Albert Ellis, but the magazine is best remembered for its photography.
Bert Stern's infamous last photo shoot of Marilyn monroe was featured in Issue 3:2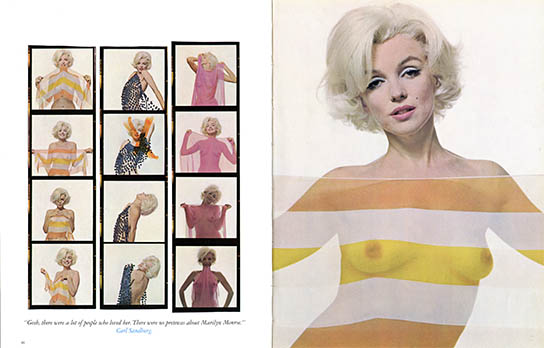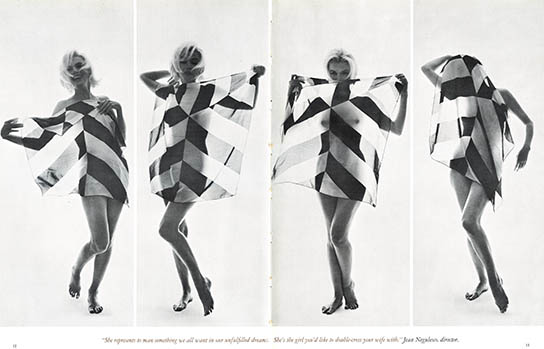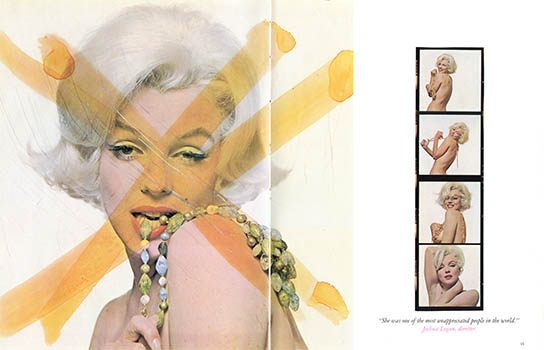 Ralph Hattersley's interracial photo essay was featured in Issue 4: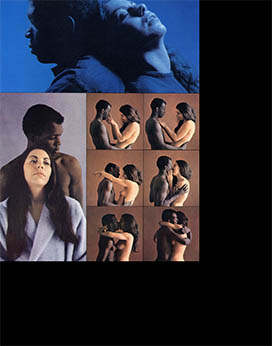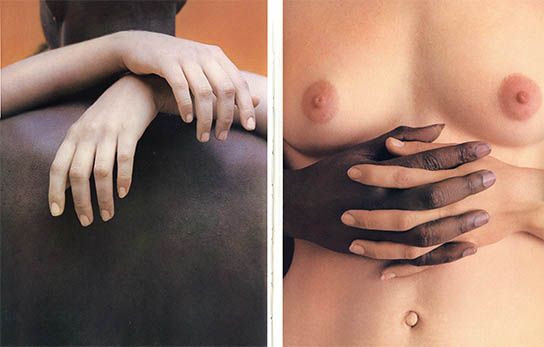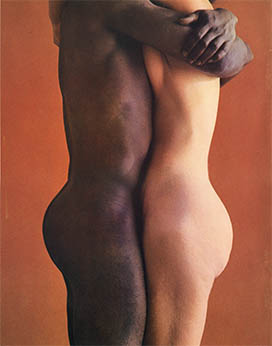 It would be Hattersley's work that ultimately got Ginzburg in trouble. Although the photos were rather tame by even the standards of the 1960s, interracial relationships were still taboo and Attorney General Robert Kennedy indicted Ginzburg for distributing obscene literature through the mail.
In June 1963, Ginzburg was convicted of pandering obscenity by the U.S. District Court for the Eastern Pennsylvania. and sentenced to five years in jail.3 He appealed the case all the way to the Supreme Court, which ultimately upheld the lower Court's ruling.4
The cost of printing the periodical as well as the cost of Ginzburg's legal defense put an end to Eros after only four issues, but He and Lubalin would collaborate on three more magazines (see part II)
In 1972 Ginzburg finally served an eight-month prison sentence.5 After his release he never published another magazine. As he later said:
"My publishing potential after release from prison was severely circumscribed. I have always felt that I might have become a major force in American publishing had it not been for my conviction. Instead, I'm just a curious footnote."
Ginzburg retired from publishing at age 55 and spent the rest of his life as a photo-journalist for the New York Post. He died on 6 Jul 2006.
1. Ginzburg charged USD 25/year and advertised the quarterly as "the most expensive magazine in the world." Nevertheless the publication never made a profit. This mailer, a classic piece of Ginzburg direct marketing, was included in the last issue: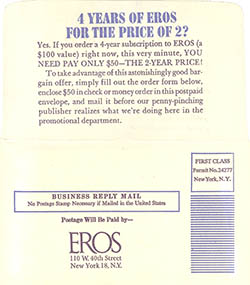 2. Bert Stern was commissioned by Vogue to photograph Marilyn Monroe in late Jun 1962, just six weeks before her death. In three "drunk on champagne" sessions at the Hotel Bel Air he took more than 2500 photos, a fraction of which were published in Eros just six weeks after her death. For more, see the hard-to-find: Stern, Bert. Marilyn Monroe: The Complete Last Sitting. Munich: Schirmer/Mosel Verlag GmbH, 2000.
3. The case fell to this jurisdiction because Ginzburg used the Amish towns of Intercourse and Blue Ball, PA as mailing addresses. He later settled on an address in Middlesex, NJ.
4. Ginzburg v. United States, 383 U.S. 463 (1966) was clearly troubling for the Court. Rather then considering artistic merit, they ruled on the magazine's mail-order promotion. In a 5–4 decision they upheld the lower court's ruling. Writing for the majority, Justice Brennen stated "Where the purveyor's sole emphasis is on the sexually provocative aspects of his publications, that fact may be decisive in the determination of obscenity." It was one of the last obscenity cases heard by the Supreme Court.
5. Inmate no. 38124, Lewisburg (PA) Penitentiary: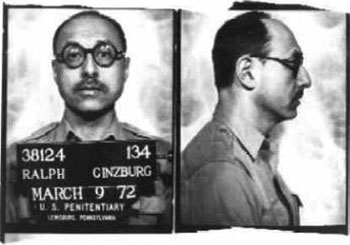 It should be noted that the year Ginzburg was incarcerated the movie Deep Throat (Gerard Damiano, dir. Gerard Damiano Film Productions, 1972), was released. Times had indeed changed and Ginzburg paid the price for being a pioneer
10 Nov 2010, updated 14 Nov 2010 ‧ Design