Lego
A Natural History of Package Design
This is the 1958 box for Lego set 700/5.1 It shows three children so absorbed in play that they couldn't even bother to look up at the camera. The children weren't models but Lego's managing director Godtfred Kirk Christiansen's daughters Hanne (l) (who tragically died in an auto accident in 1968) and Gunhild (now Gunhild Johansen) as well as his son Kjeld (future owner of the company and heir to the Lego fortune).2
But let's go back to the beginning. Ole Kirk Christiansen (or OKC) was a carpenter trying to make a living in the farming village of Billund, Denmark. When the depression hit his construction orders dwindled to nothing and he began to make small wooden goods, including toys, to survive. Soon these wooden toys became the focus of his business and in 1934 he renamed his "company" Lego.3 After the war and against all rational advice he invested in an plastic injection molding machine – the first in Denmark. By 1949 he was manufacturing a variety of plastic toys including a building block named the Automatic Binding Brick.
By this time his Ole's third son (of four), Godtfred (or GKC) was helping with the management of the family enterprise. Unlike his father, who was happy to wrap his wooden toys in brown craft paper, Godtfred believed in the idea of proper packaging and promotion. The Automatic Binding Bricks were among the first to receive a 4-color illustrated box: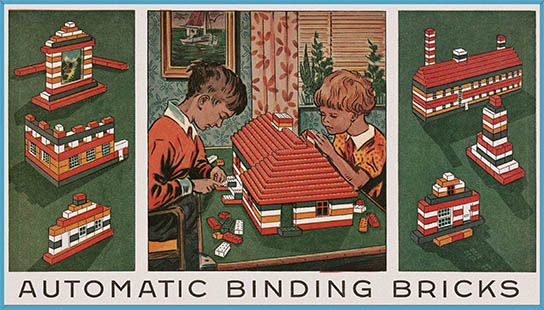 Of course Godtfred still had no concept of brand identity so every early box was a one-off design exercise: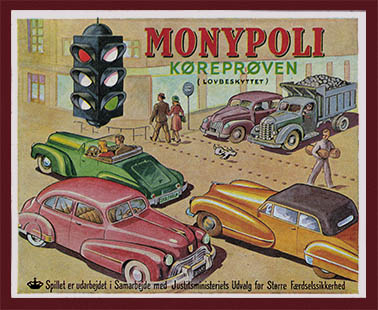 The ABB didn't sell particularly well, but Ole and Godtfred stuck with the idea. In 1952 they came up with a shorter, more descriptive name – Lego Mursten.

The 1953 Mursten boxes feature the first appearance of Godtfred's children and were lithographed from this photo: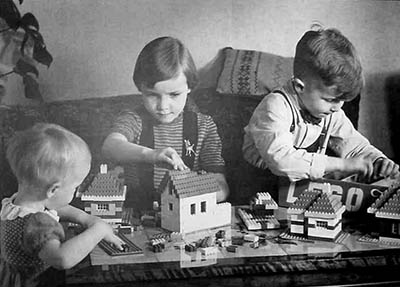 In 1955 Godtfred had an epiphany. He organized all of the Lego Mursten sets around a single, common theme - the Town Plan. He called it the System i Leg (System of Play) and with this System came new boxes: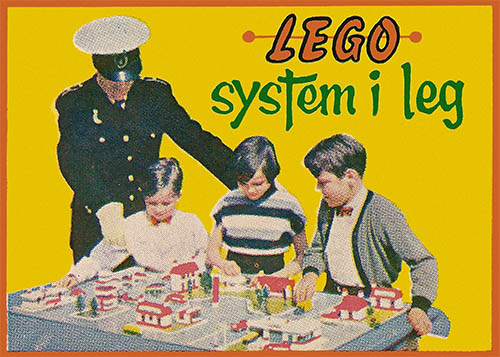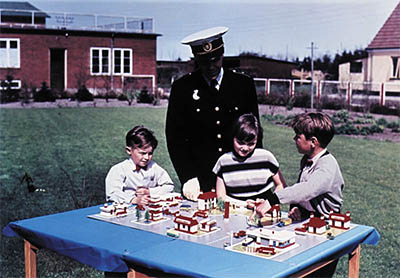 Lego had been sold as basic or gift sets (Gaveæske), small supplementary sets, even as single pieces,4 but the new town plan introduced the concept of specific model sets. Over the next two years Lego released several architectural sets that were packaged in what many consider be the most beautiful of all Lego boxes: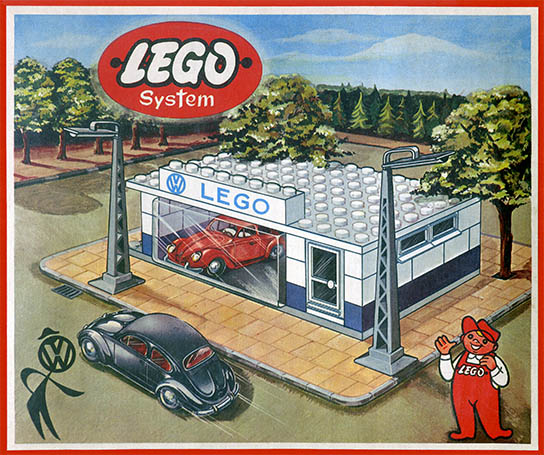 In 1958 Godtfred had his second epiphany. He added hollow tubes underneath the bricks and created the modern, or as he called it, the "real" Lego brick. The importance of this seemingly simple change cannot be overstated – now six 2 × 4 bricks could be combined in no less than 102,981,500 different ways. It was the beginning of Lego's worldwide construction toy hegemony. Of course with this change came updated boxes (including the example at the top of this page):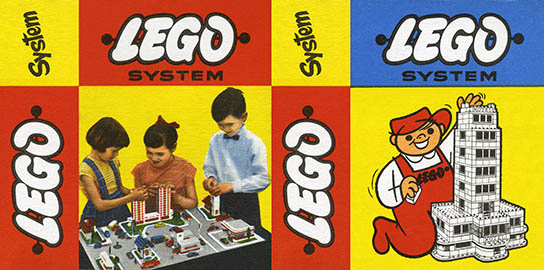 In 1959 Godtfred created Lego's first photography department and hired Helge Torpe to oversee it. In 1960 Helge redesigned the box again. These new boxes, which featured a series of professionally shot images using actual models, were intended to be used in all of their European markets. It was the company's first attempt to create a unified graphic approach to their marketing and advertising.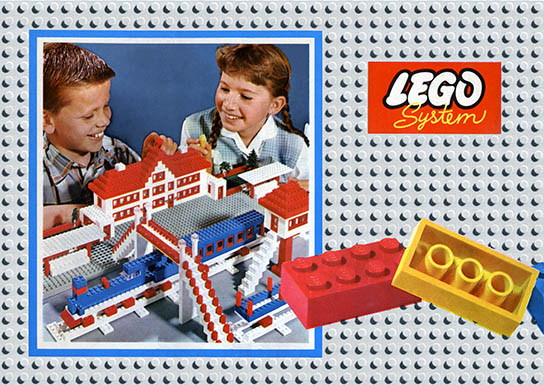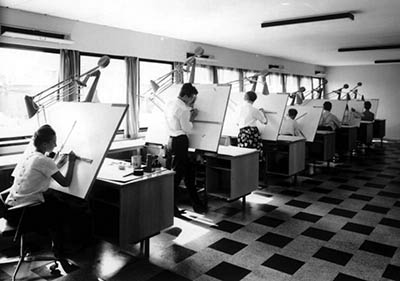 There were further redesigns in 1964 and 1968: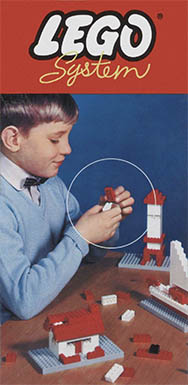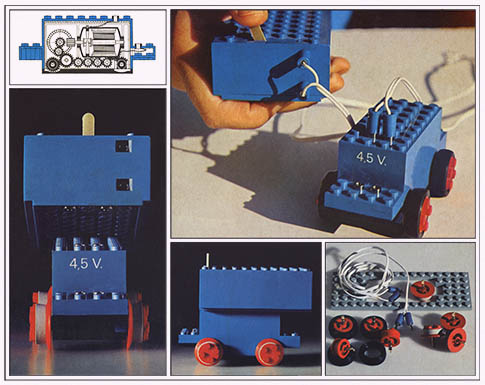 By the 1970s Lego was sold in Europe, North and South America and Japan: pretty much any market where people had money to spend on toys. The beautiful 1973 box and logo redesign, clearly Swiss influenced, was the first attempt at a true international standard: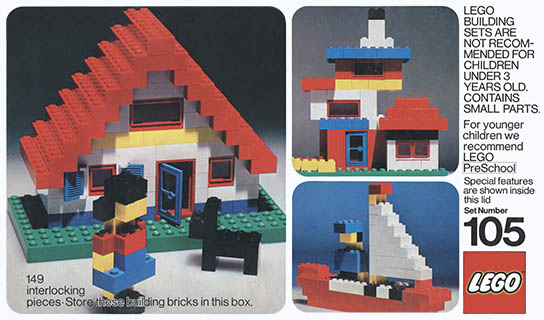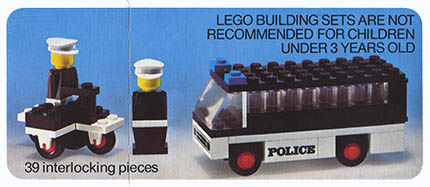 By the 1970s Lego began increasingly relying on specifically themed sets, such as these examples: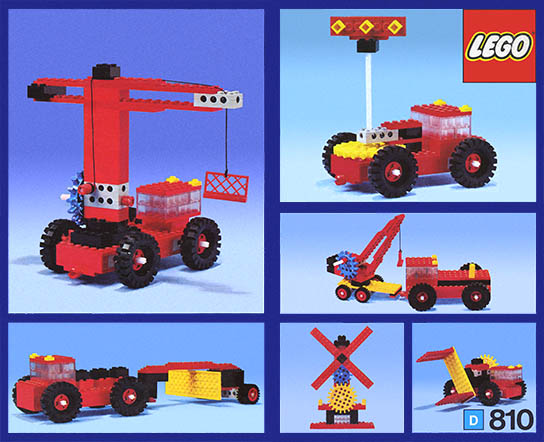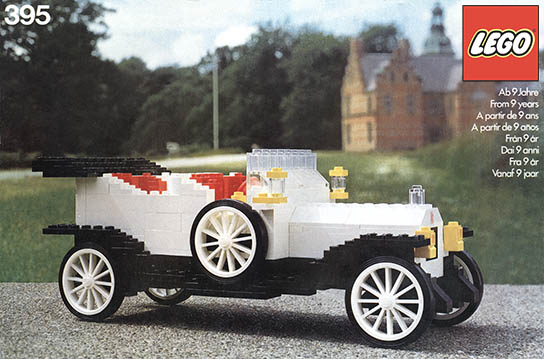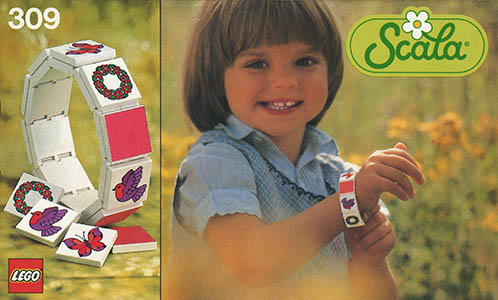 In 1978 Kjeld, now owner and CEO of Lego, formalized the idea of themes by creating the "System within a System" – Lego Town, Space and Castle. Add Lego Pre-School, Duplo, Fabuland and Technic and their product mix (as well as their graphic identity) became rather complex.
A taxonomy of Lego is outside our scope here (actually it's probably outside anyone's scope), but product development cycles shortened, themes mutiplied and spawned subthemes and promotional sets evolved into full licenses. The result was a rather dizzying array of graphic styles designed to attract the attention of (mostly) boys and their parents. All of this works because of a single constant – the well-known square logo: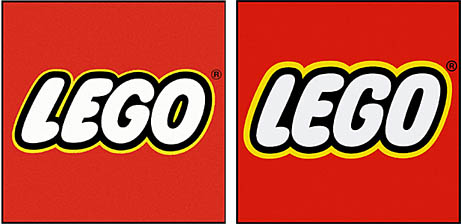 1. All of the images presented here are from your humble narrator's very own Brickfetish site. Fair warning, however, Brickfetish is even more obsessive than the site you are viewing now.
2. Kjeld Kirk Kristiansen (the spelling of the name was a clerical error on his baptism certificate) is, according to Forbes, currently the richest person in Denmark and the 258th richest person in the world with an estimated net worth of 3.5 billion USD (and trending up).
3. Lego is a contraction of the Danish Leg Godt ("Play Well"). The story goes that Ole held a contest among his employees for a new name with the winner receiving a bottle of homemade wine. He chose his own entry and apparently got to drink his own wine. The name would become one of the most important brands in the world - as recognizable as Sony, Disney or Coke.
4. Yes, individual pieces. Lego offered retailers wooden boxes with compartments and individual refill packs. Here is the price list from the Nov 1954 Danish catalog: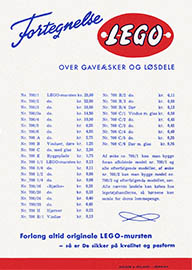 5. The Apr 1998 logo was wisely just a tweak, or as Lego refers to it, a "graphic tightening," of the classic 1973 logo. It was done mostly to account for the low resolution of internet reproduction. Here, for example, are actual-size logos from Lego.com:

10 Mar 2011, updated 30 May 2011 ‧ Design