Cabinet Card Backmarks
Late Victorian Advertising
The back (AKA backmark or verso) of this embossed and ivory-laid cabinet card (see here and here), ca.1890, is an advertisement for the photography studio of Clyde Overpeck of Hamilton, Ohio. The card is somewhat unusual in that the advertisement is set horizontally but otherwise is a completely typical cabinet backmark and a completely typical late Victorian era advertisement. IYI here is the front of the card: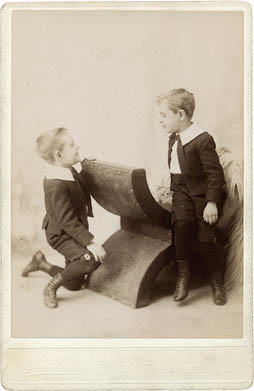 The earliest cabinets, from the 1870s, like the CDVs they replaced, included little, if any, information on the back of the card. By the 1880s, however, this 4¼ × 6½" blank card was simply was too big of a canvas to resist an ad. Here are some ca.1880s examples: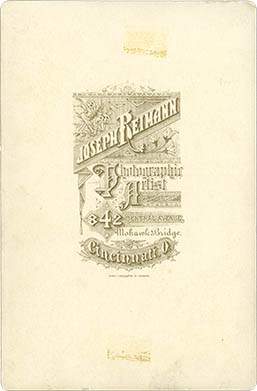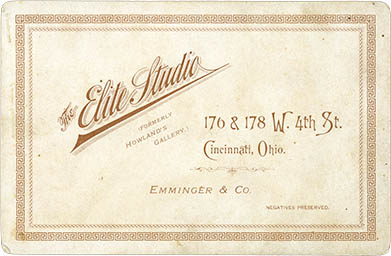 Adopting the late Victorian graphic approach of "more is more," the backmarks became progressively more complex. The designs included every element in the Victorian design book: sentimentalized historic influences, excessive borders and ornamentation and outlandish display faces that were simultaneously both horrifying and awesome: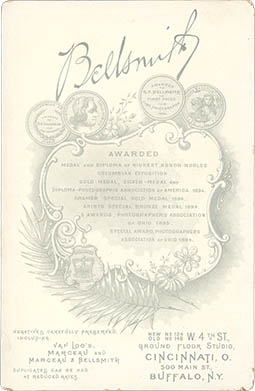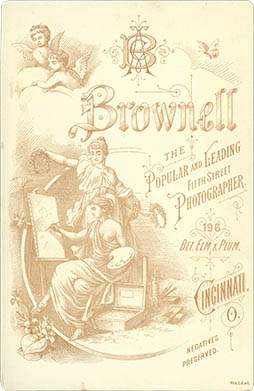 Early cabinet cards were typically lithographed by local printers, but by the mid 1880s the card vendors and major photographic supply houses began to offer complete electrotyping and lithography services – everything from borders and autographs to complete designs. Here, as an example, are excerpts from the 1888 W. D. Gatchel catalog:1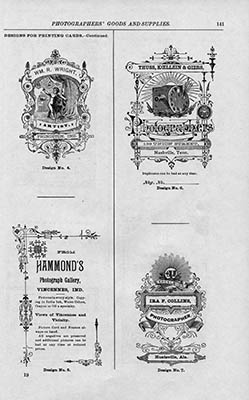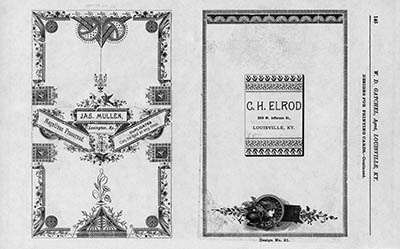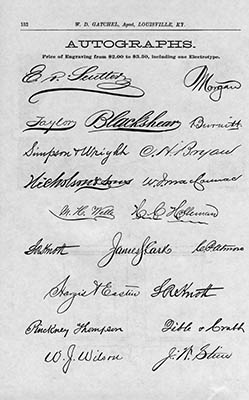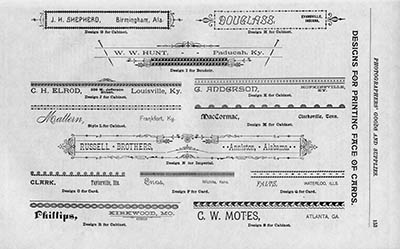 Of course these design services lead to some duplication in the field:
– QED
1. Illustrated and Descriptive Catalogue with Prices of Photographic Goods and Apparatus Supplied by W. D. Gatchel, Agent. Dealer in Everything Used by Photographers. Louisville, KY. 1888. The catalog included 14 pages of designs for cards, cabinets, promenades, panels, etc. A separate price list for lithography, mailed on application, was also available.
12 Jan 2011 ‧ Photography